Product Description
The AIX1000 is an FDA cleared, CE marked, fully automated system for nontreponemal, rapid plasma reagin (RPR) testing designed to simplify the processing, analysis, and results interpretation for RPR screens and titers. With the new universal slide-in rack system accommodating a variety of tube sizes, sample loading has become even easier and faster.
This instrument is the world's first fully automated system for nontreponemal RPR Syphilis testing. Simply load your reagents and up to 192 samples, then walk away. The AIX automates the processing, analysis, reporting and archival of results for both RPR screens and titers.
Process and Machine for Automated Agglutination Assays with Image Automated Evaluation
FULLY AUTOMATED RPR SYPHILIS TESTING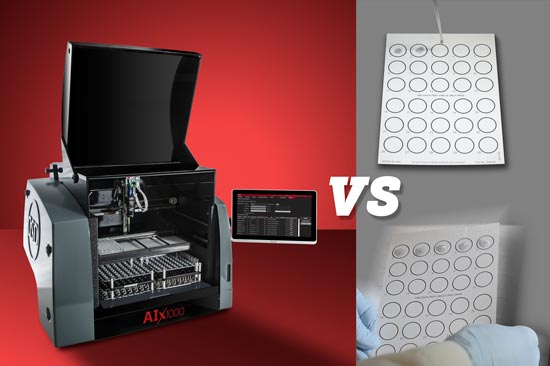 FULLY AUTOMATED
The RPR test procedure and results interpretation are fully automated. Reduce variation associated with manual testing & interpretation.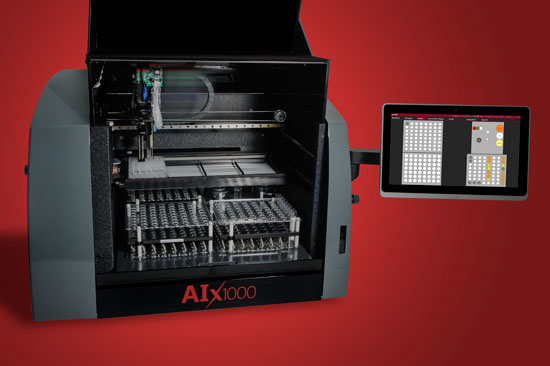 COST EFFECTIVE & EFFICIENT
Reduce the amount of labor overhead dedicated to RPR testing, freeing personnel to increase productivity across laboratory operations.
‍
Improve the quality & consistency of your results.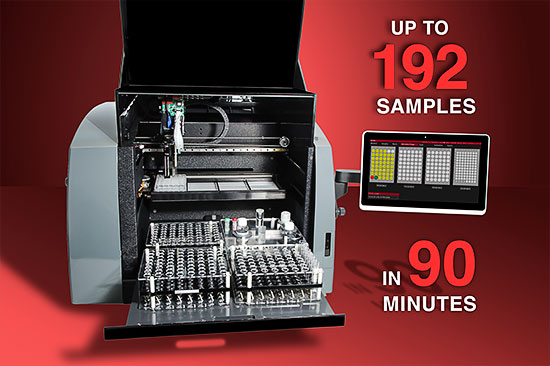 PERFORMS SCREENS & TITERS
Run flexible batch sizes of up to 192 samples in 90 minutes. The AIX1000 performs RPR screens and/or titers using automated protocols.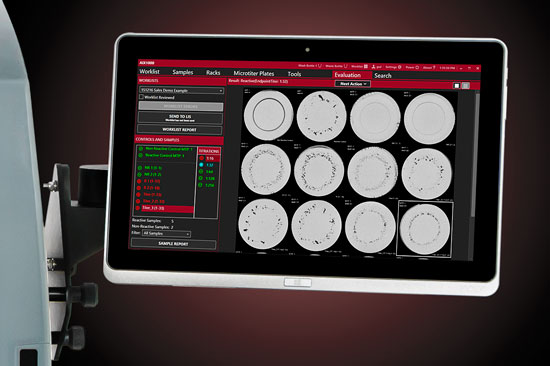 EASY ACCESS TO TEST RESULTS
Images of each RPR test result are stored digitally and are retrievable on demand for review anytime.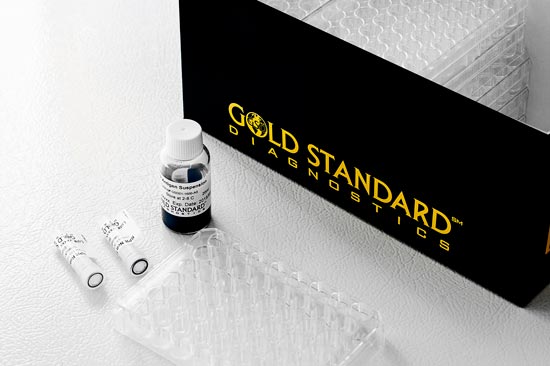 AIX1000 RPR Kit Components
480 test kit
10 x 48 well plates
22mL Carbon Antigen
350uL Reactive Control
350uL Non Reactive Control
AIX1000 Automated Agglutination Instrument - Technical Information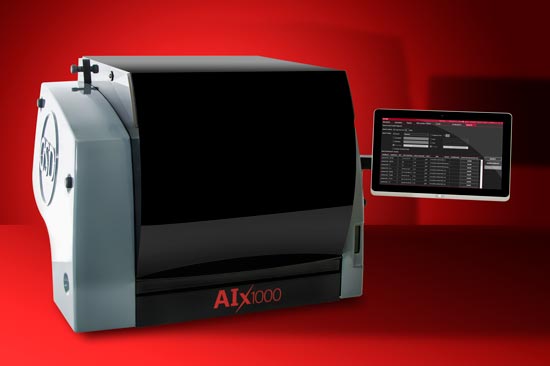 Intelligent Racks
Automatic sample location management.
High Precision Micro-Syringe
Aspirate 1µl with less than 3% CV.
On-board Camera
Probe-mounted high-definition camera.
Built-in Barcode Reader
Streamline loading and decrease sample tracking errors.
Orbital MTP Shaker
Precise adherence to test procedure (100-400 RPM).
Small Footprint
~2 feet x 2 feet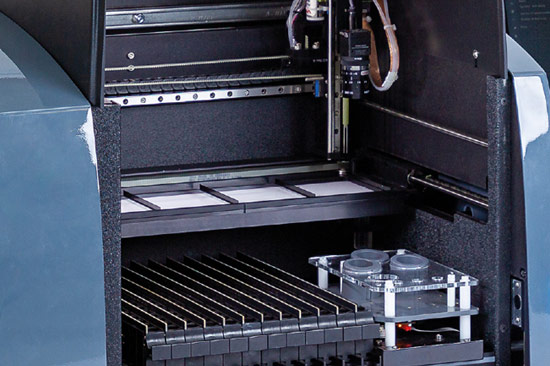 Sample Capacity
12 racks of 16 samples. Up to 192 samples total.
Reagent Positions
1 rack of 4 reagent positions and 2 control positions.
Test Tube Size(s)
Standard 12, 13, 16 mm diameter, up to 100 mm tall (custom racks available).
MTP Positions
4 positions (4 reaction plates for screens, 3 reaction plates and 1 predilution plate for titers).
Well-Tracking
Independent well tracking and timing.
Waste & Wash Bottles
1 x 2L external waste bottle position.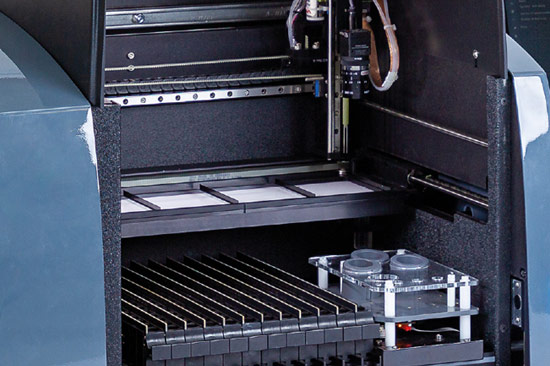 Probe/Needle
Single probe, dual needle system.
Dispense Volume
Up to 300 µl.
Aspiration Volume
1 µl – 300 µl.
Orbital MTP Shaker
Amplitude: 10 mm. Speed 100-400 RPM.
LED Backlight
Long-life backlighting to support high-contrast images. LED indicators for slide-in rack base plate.
Power Supply
Voltage: 100-265V. Frequency: 50-60Hz. Consumption: 12W w/o incubator, 120W Max.
Dimensions
W: 25.2 in, D: 22.5 in, H: 17.7 in (W: 64 cm, D: 57 cm, H: 45 cm), H (open): 36 in (91.5 cm)
Weight
62 lbs (28 kg)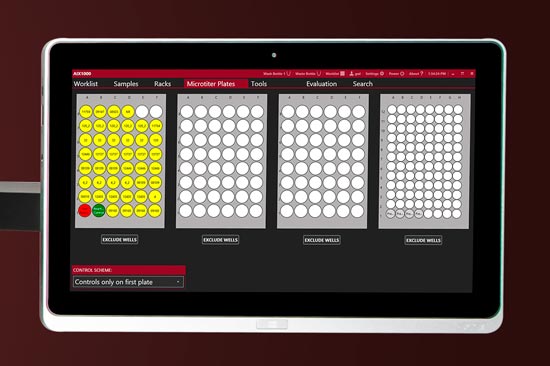 Language
Multi-language support.
Image Analysis
Proprietary digital agglutination recognition algorithm.
Results Archiving
Digitally store images for retrieval anytime.
LIS Compatible
RS232, USB, TCP/IP.
User Interface
MS Windows 10 Graphical User Interface.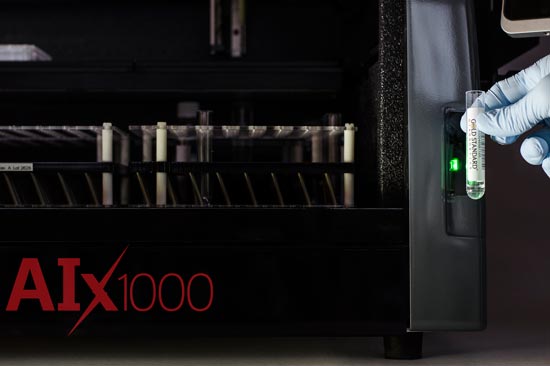 START THE RUN & WALK AWAY
Load sample tubes using the built-in bar code reader or intelligent racks. The AIX1000 provides full sample traceability from loading to result reporting and archiving. The AIX1000 performs the RPR test procedure for screens and titers, and automatically interprets results.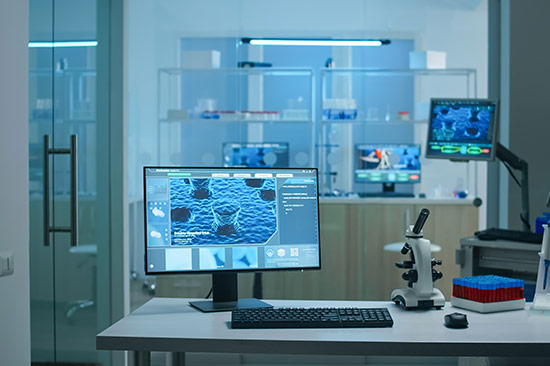 COMPATIBLE WITH LABORATORY INFORMATION SYSTEMS
Upload and report results directly to your laboratory database without the need for manual data entry. Integrate results archiving and reporting into your laboratory information system.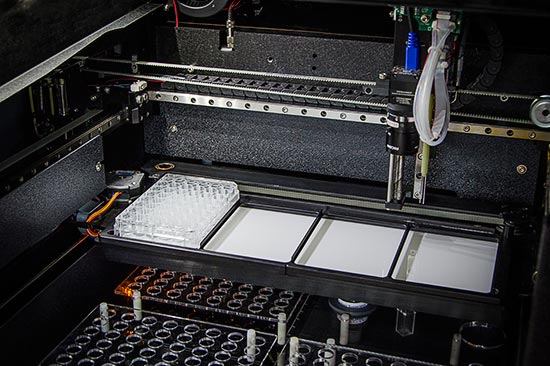 ON-BOARD FEATURES
The AIX1000 employs a single, dual needle probe to aliquot Gold Standard Diagnostics' RPR reagents in up to 4, 48 well microtiter plates, and an orbital shaker to perform the automated RPR test procedure. A built-in magnetic stir plate maintains carbon reagent suspension during the run.
INTUITIVE, USER FRIENDLY TOUCH INTERFACE
Use the touch-screen interface to analyze, archive and retrieve results.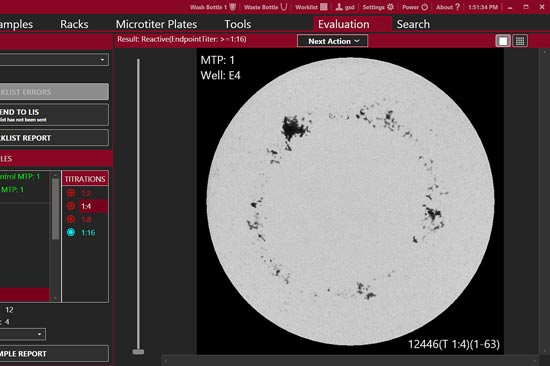 SOFTWARE
Run qualitative screens & semi-quantitative titers (1:2-1:256). The AIX1000 performs the RPR test procedure for screens and titers, and automatically interprets results using a proprietary pattern recognition algorithm.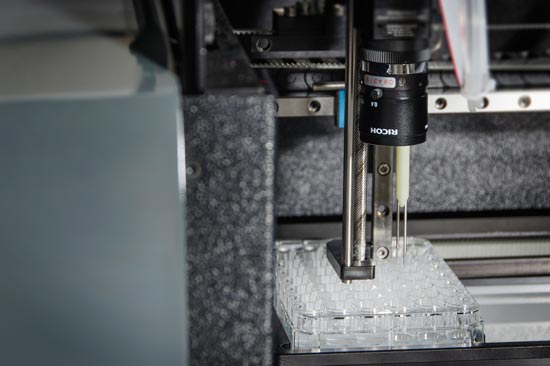 DIGITAL RESULTS
An HD camera generates images of RPR test results that are stored digitally and are retrievable on demand.
FEATURES & BENEFITS
Runs screens and titers – up to 192 samples in 90 minutes
Full sample traceability: integrated barcode reading compatible with 1D and 2D barcodes
Proprietary image recognition algorithm gives objective results
Reduced labor overhead: reduced TAT and hands on
Easy access to test results: save data and review on demand
Improved Database Management cutting in half the time to perform backups/restore
Remote data archiving capabilities and an expandable status log
For use with AIX1000® RPR Reagent kit (cat # GSD01-1600) and AIX1000® RPR Reagent bulk kit (cat# GSD34-1600-R)
PRODUCT DETAILS
You may place order by giving us a call
| | | |
| --- | --- | --- |
| Catalog Number | Description | Units of Measurements |
| GSD00400 | AIX1000® Agglutination Analyzer | 1 Unit |
DOCUMENTATION AND VIDEOS
Video, brochure and additional literature provided below: