Product Description
Alco Screen is a qualitative screening test used to detect the presence of ethyl alcohol in human saliva. The test strip estimates BAC at the 0.00%, 0.02%, 0.04%, 0.08% and 0.3% levels. Results are used in the diagnosis of alcohol use or intoxication. For in-vitro diagnostic use. The assay is a disposable test for one-time use. FDA-Cleared and CLIA-Waived!
Inappropriate consumption of alcohol can be a problem in many family, occupational, institutional and safety sensitive situations. Alco Screen provides you with an easy yet effective tool in identifying alcohol consumption. And it is the most cost effective alcohol testing method available.
Features & Benefits
Two-minute saliva test for alcohol
Dipstick format
Stores at room temperature.
Semi-quantitative results
Convenient test procedure
Results in two minutes
Can test beverages for alcohol

      Materials Included:

Twenty-four (24) individually packaged tests per box
24 sputum collection cups included
Instruction Sheet
Simply wet the test pad with saliva; development of a distinct colored line on the test pad within 2 minutes indicates a blood alcohol concentration:
Test Results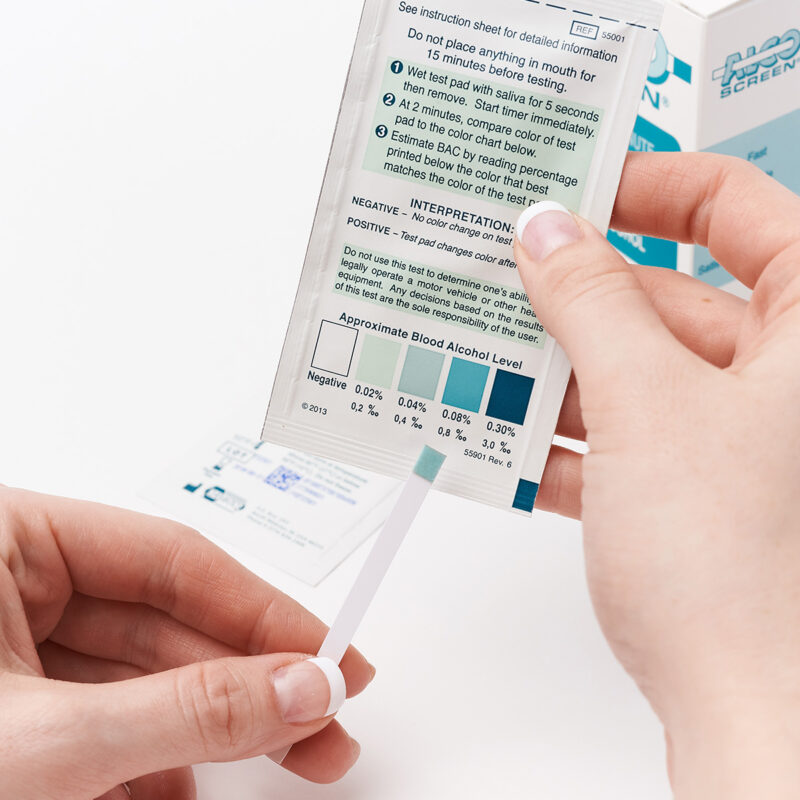 Estimate intoxication levels by comparing the color change against color standards printed on the foil package at the 0.02%, 0.04%, 0.08%, and 0.30% BAC.
[/col] [/row] [/section]
PRODUCT DETAILS
You may place order by giving us a call
| Catalog Number | Description | Units of Measurements |
| --- | --- | --- |
| DS77AC124 | ALCO Screen Saliva Alcohol Test | 24 tests/box |