Product Description
ALCO-Screen 02™ is a qualitative screening test used to detect the presence of ethyl alcohol in human saliva. The test detects relative blood alcohol concentrations (BAC) greater than or equal to 0.02%. Results are used for the diagnosis of alcohol intoxication. For in-vitro diagnostic use. The assay is a disposable test for one-time use. FDA-Cleared and CLIA-Waived!
Features & Benefits
Four-minute saliva test for alcohol
Dipstick format
Intended for use to identify persons with blood alcohol concentrations greater than 0.02%.
Distinct colored-line result at 0.02% cutoff.
Stores at room temperature.
D.O.T Approved.
Economical and Convenient

      Materials Included:

Twenty-four (24) individually packaged tests per box.
One ALCO-Screen 02 test strip per package
Instruction Sheet

     ALCO-Screen-02 D.O.T Alcohol Test Uses:

D.O.T mandated testing
Workplace testing
Alcohol treatment programs
Criminal justice testing
Emergency room admission testing
Over the counter use
Simply wet the test pad with saliva; development of a distinct colored line on the test pad within 4 minutes indicates a blood alcohol concentration equal to or exceeding 0.02% as shown below:
Test Results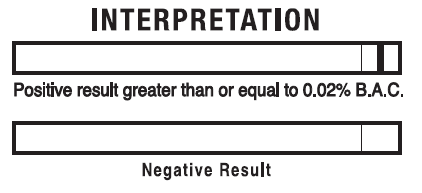 Positive: Distinct colored line appears on the test pad. BAC greater than or equal to 0.02%.
Negative: No colored line appears on the test pad. BAC is below 0.02%.
Quality Check: A third party control solutions is offered that can be used to comply with CLIA regulations and/or to test the viability of the ALCO-Screen 02 test device. The controls are formulated as a POSITIVE CONTROL and a NEGATIVE CONTROL.
PRODUCT DETAILS
You may place order by giving us a call
| Catalog Number | Description | Units of Measurements |
| --- | --- | --- |
| DS85C124 | ALCO Screen 02™ Saliva Alcohol Test- D.O.T Approved | 24 tests/box |